Choosing the Right Interior Doors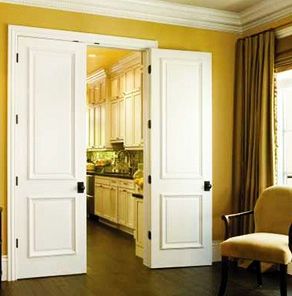 Written by: ETO Doors
Homeowners have numerous options when it comes to choosing interior door styles.  In order for a room to look natural and stylish at the same time, there has to be a certain "flow" to the area. This means that your idea of mixing three different eras in one room will just end up looking like a disaster. It's important to ensure that each room in your house transitions easily with each other. You don't want to walk from your bright blue bathroom into a neon green hallway. There has to be some clarity in your design as well as the color pallets of your choosing.
Many modern interior doors do not use six-paneled doors as they do not portray a modern feel to it. It's one of the most common types of door designs available on the market and is popular with homeowners looking for a standard door.
There are also prehung interior French doors that are easy to install if you want to let in more sunshine in to your rooms. The great thing about French doors – excluding the looks – is that they can make a room look much larger than it actually is. Coupled with windows matching the French door frame, you can give your rooms an open-air feeling.
There are numerous designs available out there on the market that is sure to fit your style. Prices can vary so it's important that you obtain a quote on what you are interested in so you don't get a ballpark number that'll make you walk out the door.
Doors can be quite expensive. You essentially get what you pay for. If you think you're getting a great deal by purchasing a cheap door, expect it to be made out of cheap materials that won't last you long. Plus, you're going to be spending some money hiring a professional to install your door for you. You'll more or less just throw money away by purchasing a cheap door.
You're not limited when it comes to choosing your door style. There are a variety of styles available for you to purchase. Make sure that you take in consideration how your room is laid out. If you're looking to replace your front door, make sure you find one that will make your house stand out of the crowd. It's your gateway into your magnificent house. Impress your guests and be proud of your home.