Colored Doors for Business
Article submitted by ETO Doors Corp.
See the picture? Look how well the business stands out with the green door. Even if green isn't your preferred color, increased business is every owner's taste. People driving, walking, and biking by will stop to take notice. A bright front or exterior door color combined with great signage is an effective ad campaign, especially for new businesses.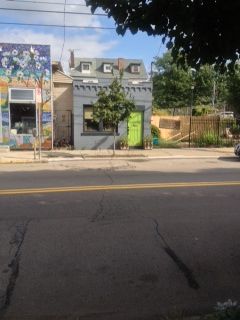 In the days where online reputations and social media seem to hold everyone's attention, there's still something to be said about good old street appeal. And as much as shopping has become an e-commerce experience, it's still a valued American tradition to leave the home in the evenings or weekends to shop. For small businesses competing against some of the big-box or nationwide brands, a unique style or design ethos can attract a specific market of consumers looking to support their local economy.
To pick a color for your front door or entryway, it's important to think about the brand of your company. The color should say something about you and the product/service the customer will encounter. For full color analysis check out sites like pantone.com. When selecting the actual paint color, it's a good idea to stop by your local home improvement store and speak with a team member in the paint department to make sure you select the correct type of paint and primer to use on your door. Remember even if you don't have a wood front/exterior door, you can still use paint to distinguish your entryway; metal and fiberglass can both be painted with great results!
As important as the color is having a door that is functional and easy-to-open. It sounds obvious, but many businesses have front doors that are too heavy, or that don't open with ease. Don't make your customers work hard to get in the front door! Call a carpenter or a contractor to adjust the swing on your door, and consider whether or not you may need a new door.
And if you do need a new door, ETO Doors offers a full line of ready-to-paint/ paint-grade exterior doors that can be shipped in less than 48 hours nationwide. Go to www.etodoors.com or call 888-DOORS-ETO for more information about paint grade exterior and commercial doors.
---
Eto Doors offers interior and exterior home doors, commercial doors, garage doors and more. Also visit ETO Doors Facebook page.